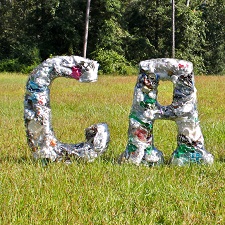 Through art, the Litter letter project aims to raise awareness in the community about our garbage's production and management.
A 3D messaging system of letters constructed from chicken wire and rebar, filled with litter collected from the roads and highways. By displaying these large scale visual messages in public places the hope is to provoke response, thought and action. The Litter Letter Project is a way to begin the conversation.
For more informations or to get involved, contact Cym Gomery.