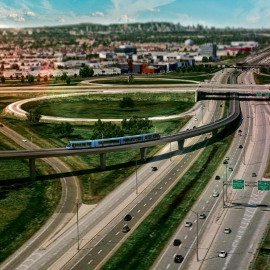 Last week, the courtroom at the Quebec Court of Appeal was packed to hear the case that a group of citizens brought against the Government of Quebec and the Caisse de depot et placement du Québec (CDPQ) about the Réseau Express Métropolitain.
The citizens will soon have the Court of Appeal's answer to the questions they took to the courts nearly two years ago. First, do corporations' property rights supersede the right of the population to a healthy environment? Second, should private companies be allowed to withhold information from citizens and elected officials when conducting public consultations? And third, can governments adopt retroactive laws releasing themselves and private companies from their environmental obligations?
Last year, the lower court effectively ruled yes on all three counts by dismissing the citizens' case at a preliminary level. The judgement of the appeals court is due in the coming weeks and will either uphold or undermine the credibility of the province's environmental watchdog, the Bureau d'audiences publiques sur l'environnement (BAPE), which declared the project impossible to evaluate due to lack of transparency on the part of the CDPQ.
The citizens are members of Trainsparence, a coalition of transit experts and environmental advocates concerned with endemic lack of transparency in public projects. In collaboration with the Coalition Climat Montréal and the Canadian Union of Public Employees, researchers from UQAM and ÉTS conducted a Climate Test on the project in June, demonstrating that it would emit nine times more greenhouse gas emissions than divulged by the CDPQ.
The good news, they concluded, was that alternatives that take advantage of current construction would reduce emissions per dollar invested by an order of magnitude. This, while avoiding more crumbling concrete viaducts, sprawling parking lots, and exorbitant operating subsidies. The current agreement will cost taxpayers $43 per passenger per day travelling downtown from Deux-Montagnes, compared with $8 today.
If it goes ahead unchallenged, this 'innovative' project will be precedent-setting in three troubling ways:
1. Promoters will rightly conclude that they can flout public consultations by withholding inconvenient project details;
2.Public investments in infrastructure of this or any scale will not be required to be evaluated – let alone optimized for – their impacts on our environment, including greenhouse gas emissions;
3. The government will take comfort knowing they can change laws retroactively – as was done in September 2017 with Law 137 – to cover their tracks and render illegal activities, such as the requirement that projects are submitted to a proper environmental consultation, retroactively legal.

What are the chances of the appeal's success?
Written law is subject to evolution in interpretation, and we have to insist that our courts take a larger view of legal protections for a healthy environment, just as they have with human rights. While slavery, female subjugation, and homophobia were once enshrined in law, the legal understanding of human rights has evolved to overrule such prejudices.
It is only a matter of time until the law recognizes that honest, transparent consultation and a healthy environment for present and future generations are rights that should take precedence over the short-term interests of business and political elites. The only question is how much damage our courts will permit before putting a halt to it.
Whether or not the judges decide to build on precedents set in the case of the Western Chorus Frog in La Prairie and in the recent rejection of Kinder Morgan's Trans Mountain pipeline, or they decide to kick this decision down the road another few years, the citizens can be proud to have laid bare the incongruence between the government's stated objective to act ambitiously on climate change and its refusal to measure the climate impacts of its actions.
How can you help?
If the government and the CDPQ lose before the Court of Appeal, we can be confident that they will appeal to the Supreme Court of Canada. If the citizens lose, will they be able to do the same? For one thing, they would have to ask permission from the Supreme Court itself. If permission were granted, the only thing preventing the case from being heard would be the depth of the citizens' pockets. Up against the government of Québec and a $300-billion pension fund, the odds aren't in their favour. Donations are being collected to defend our rights, and can be made at trainsparence.ca
Réseau Express Métropolitain: three unexpected ways life will change